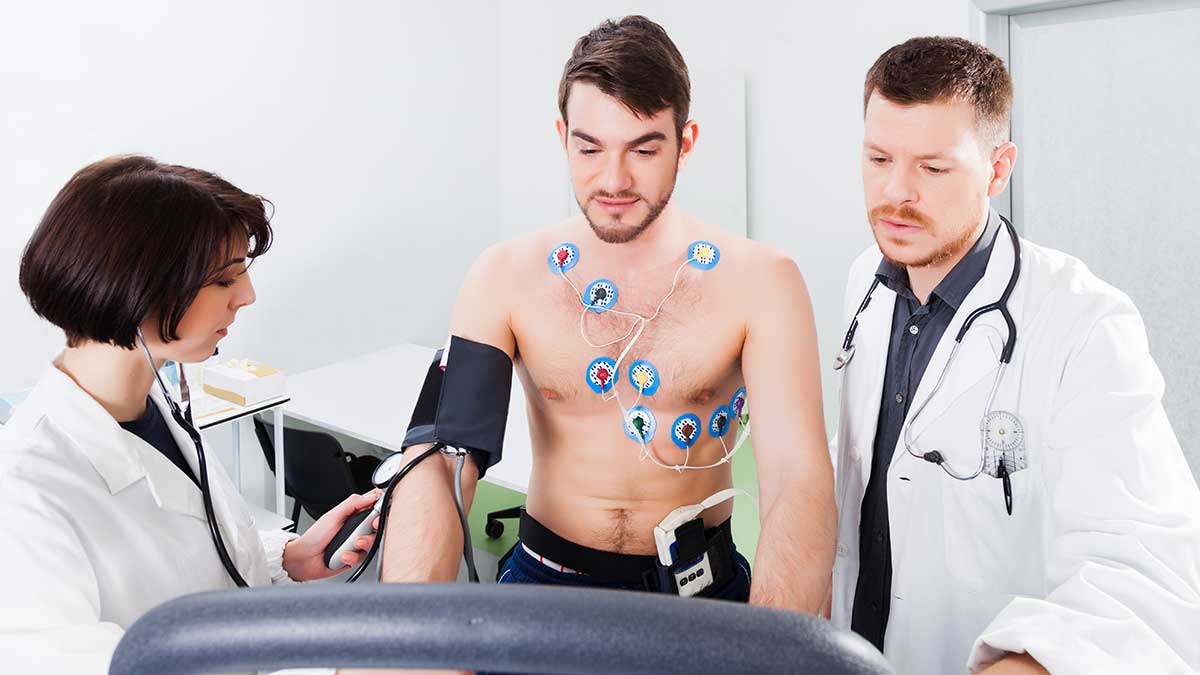 Treadmill Test / TMT Test
A Stress Test is usually used to determine whether someone has any heart problems. The doctor conducts the test to determine how much your heart performs under physical stress, until blood flow to the heart muscles drops, or an unusual rhythm develops. 
In simpler terms, Treadmill Test (TMT Test) is a type of heart stress test that is performed while the individual is running on a treadmill over the span of an ElectroCardiogram (ECG). The aim of a TMT test is to analyze blood flow in the heart when the individual is resting and when under actual pressure. Strange heart rhythms can be identified while running on the treadmill which helps to analyze the presence or absence of coronary artery diseases.
The speed and incline of the treadmill are extended throughout the duration of the TMT test. The result displays how well the heart responds to the pressing factor of different levels of movement. The heartbeat, circulatory strain and electrocardiogram (ECG) are noticed before, during, and after the test.
Requirement of TMT Test / Stress Test
A TMT Test or treadmill stress test is performed to recognize any heart issues like Coronary Artery Disease (CAD) where coronary conduits get stopped, harmed or infected. It is also used to determine the state of the heart after an individual has undergone angioplasty or coronary failure. Shallow breathing, chest uneasiness, dizziness are the symptoms of the curbed conditions that can be distinguished through a TMT Test. A TMT Test or cardiac stress test can be performed to measure the adequacy of medicines on angina and ischemia. It also helps in knowing any strange heartbeat rate in view of effort brought by working out.
How is a TMT test or Stress Test performed?
During a Stress Test, an expert will put anodes on the patient's chest to screen the heart; these will be appended to an ECG machine which displays heart's movement. Pulse readings are recorded alongside.
A Stress Test requires the patient to run on a treadmill or pedal on a fixed bicycle.
To start with, the pulse and circulatory strain will be checked at rest.
Later, the test intensity will increase step by step and the patient will keep on exercising until they feel tired.
How to prepare for the Stress Test?
On the day of your stress test:
Do not eat or drink for two hours preceding your test
Take your standard medicines. Consult your doctor in case advised otherwise
Wear comfortable clothes and shoes that are suitable for exercising on a treadmill
Call our centre for detailed instructions